Rit Dye
Reinventing a 100-year-old brand through digital and product innovation.
Rit Dye
Reinventing a 100-year-old brand through digital and product innovation
Group Project / 4 Weeks
My Role: Concept Development / Visual Design / Product Design / Experience Design / 3D Modeling / Research
Toolkit: Cinema 4D / Sketch / Photoshop
Challenge
Helping Rit Dye break free from its current brand misconception as a maker of niche DIY products reserved for serious crafters
Opportunity
Showing casual crafters that fabric dying is an ownable skill and there is no reason not too try it out
Solution
We can help the casual crafters get over their fear of dyeing by simplifying the dyeing process and improving the consistency of the dyeing results
Physical Product Innovation
New Packaging + User Instructions
One of the three barriers to the mass adoption of Rit products that we identified is the inconsistency of dyeing results. Through research, interviews and product testings, we came up with a few ways of improving the inconsistency issue, including a complete redesign of the existing packaging and three product innovation concepts.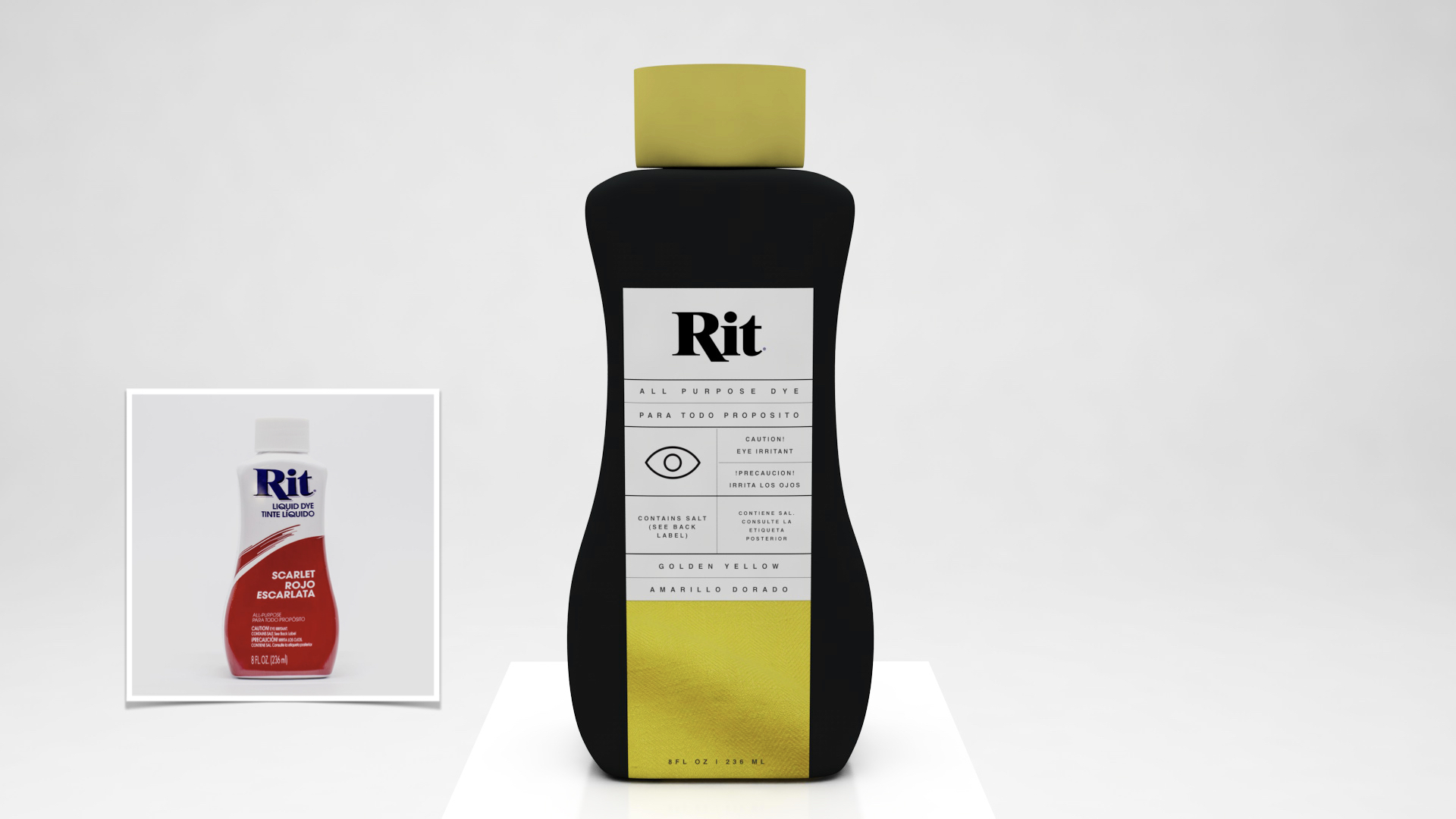 Physical Product Innovation
All You Need To Dye™ Kit
For the first time dyers, dyeing can be an intimidating process. Not only the result might not turn out as expected, but there is also a chance of ruining your clothes/furniture and making a big mess that's hard to clean. To make dyeing a less intimidating process and a more popular activity among hobby crafters, we created a "Rit All You Need to Dye Kit" that includes tools and products like a waterproof tablecloth, swappable spray head, dye remover and more.
Physical Product Innovation
Dye Blending Marker
Color variation is another major pain point among the inexperienced dyers that we discovered during our research. So we created a blending tool for minimizing color variations and missed spots.
Physical Product Innovation
In-Store Dye Mixer
The original Rit liquid dyes come in 90+ colors, but only a dozen shades are carried by major craft stores, and even less by big box stores. We created a dye mixing machine that can mix a fresh bottle of any color out of the thousands of colors cataloged in Bit Color Library. This mixer can be installed at Rit's major retail partner like Michael's and Joann's Fabric.
Digital Product Innovation
Web Extension - "1,000 Ways to Dye"
In order to turn casual crafters' considerations into actions, it is crucial to provide them with an abundant amount of resources and inspirations. Therefore, we created "1,000 Ways to Dye", a web-based Project Prompt Randomizer for the official Rit website.
Integrated Campaign
Social + Digital Promotion
These colorful visuals aim to quickly communicate the campaign message "It's Time to Dye" to the target audience, and remind them that there is an easy way to revive their "dying" clothes.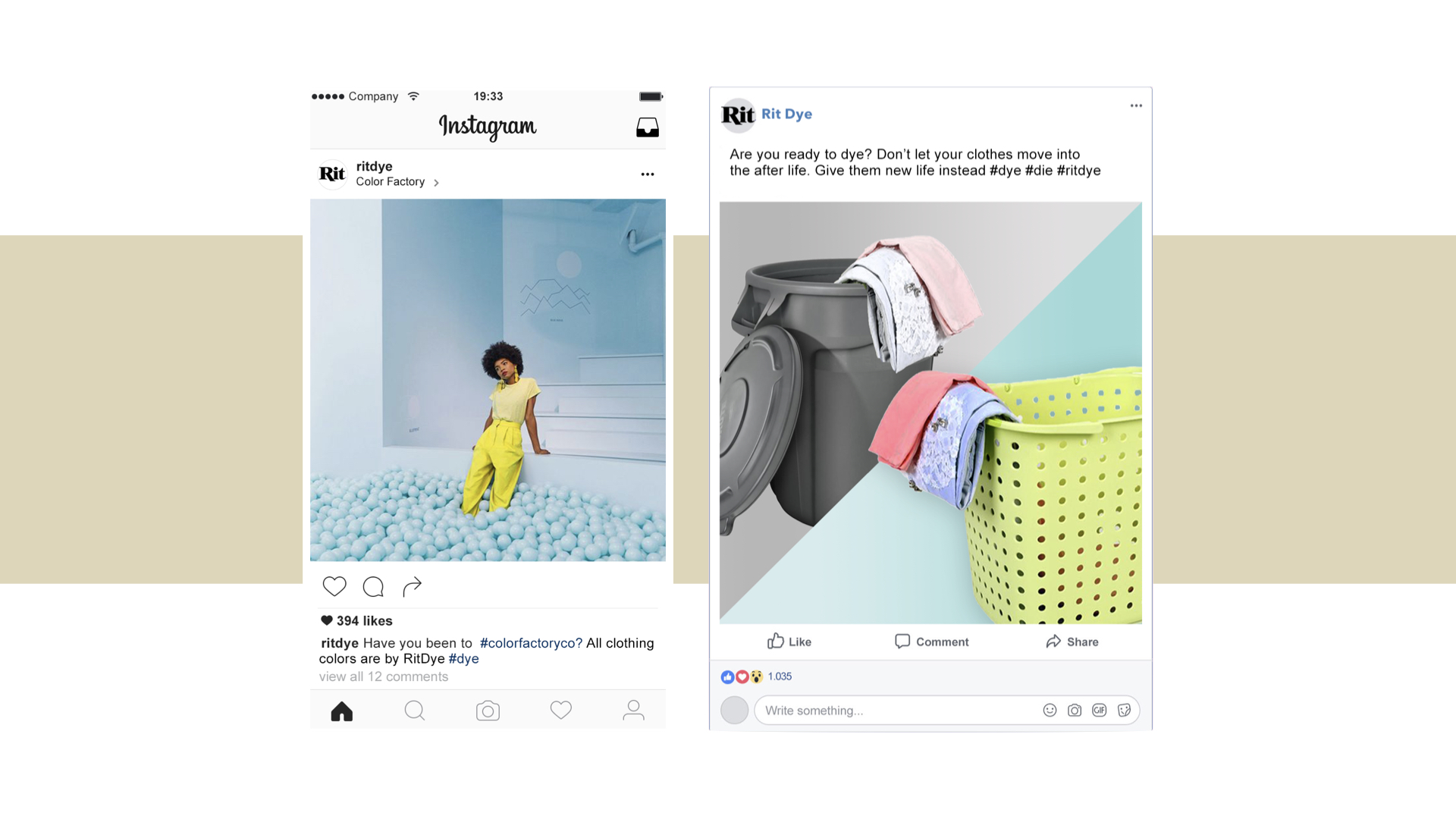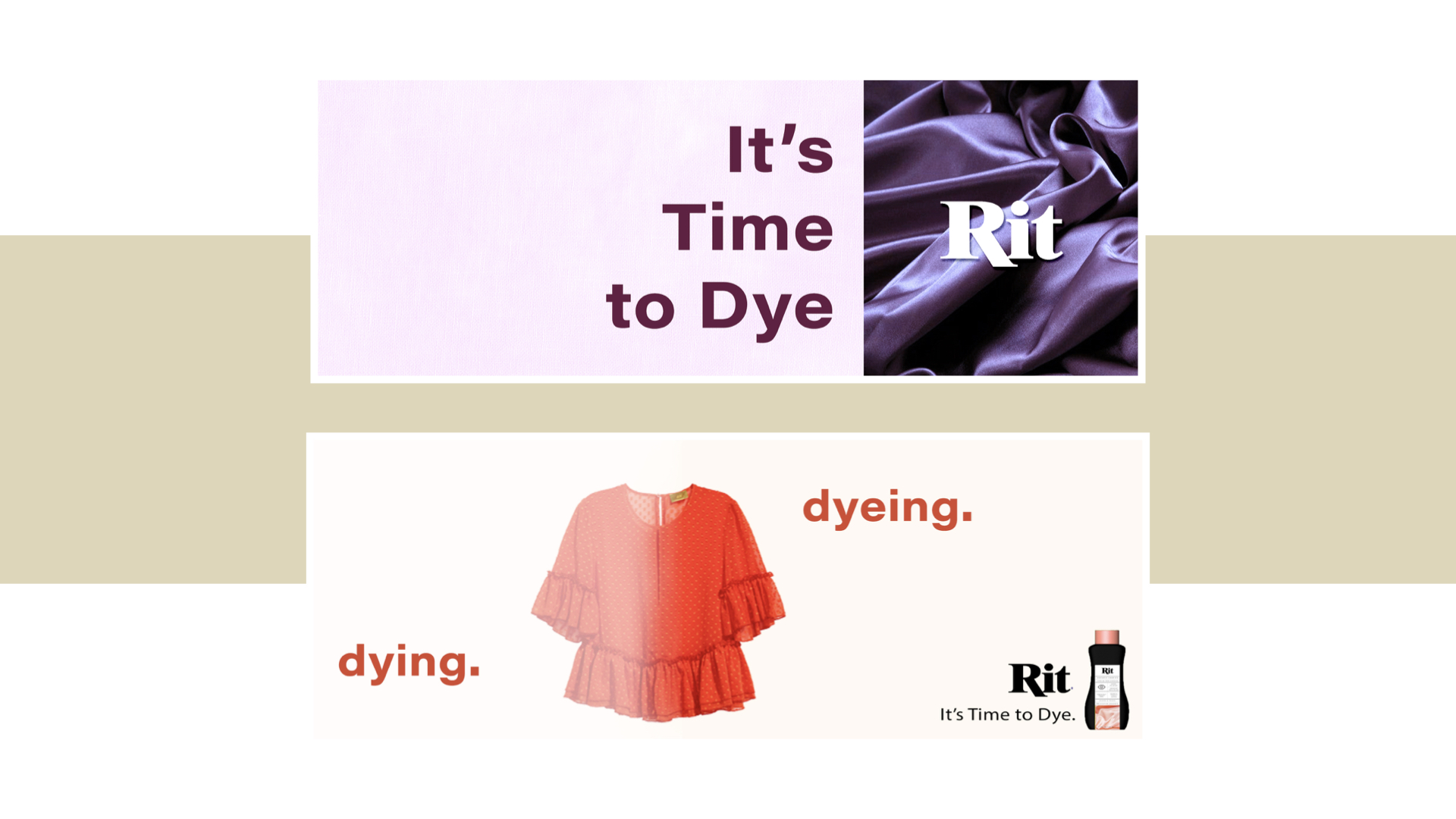 Integrated Campaign
Experiential + Partnership
Integrated Campaign
Print Communication
Integrated Campaign
In-Store Marketing